Downtown endangered as Covid-19 accelerates exodus to suburbs
Garth Falconer pens his views on how Covid-19 has accelerated the move to the suburbs, and how urban design can help minimise this downtown exodus.
Working from home or some hybrid division of location is surely here to stay, as technology now supports remote productivity and people appear happier with less commuting and more family time. It's a trend that has been accelerated by the pandemic. We've seen a large exodus from urban centres, particularly our downtowns, as workers have headed for the 'burbs.
The issue with downtowns began after the second world war, as they transformed from mixed use centres to become subtracted mono cultures, characterised by the vertical stacking of worker offices, with living cast out to dormitory suburbs and manufacturing to buffered industrial zones. Shopping malls located themselves in the suburbs to hoover up retail spending, augmented more recently by large format distribution centres and online retailing. In the last 20 years, changing demographics, immigration booms and technology, supported by large budget public realm initiatives, have seen a partial return of residential to the inner city.
Looking at current trends which are most manifest in North American cities, pundits have been talking about a 20 to 30 percent reduction in overall office numbers post Covid, with multiple long-term effects on hospitality, rates intakes and public transport use. Though it's early days, cities like San Francisco, where the office sector makes up over 70 percent of all floor space, has seen only around 30 percent of workers returning as of March this year.
In the wider San Francisco Bay area, there is an interesting tussle going on. Amidst calls for more resilience in the form of conversion of office towers to residential apartments and car parking spaces into parks and even vertical farms, some of the big employing hi tech giants like Twitter have told staff to stay home permanently. Others like Salesforce have recently built a new high amenity HQ over several inner-city blocks with a public park on the roof. Nearby in San Jose, city officials have joined with Google to provide plans for affordable homes and campuses in their downtown. In France, the centre of its capital Paris, whilst enjoying its low office ratio to residential, ambitious conversion ideas of the four million metres squared vacant office space into much needed residential are being considered along with the implementation of the stopping of all through traffic, and even making the Avenue des Champs-Élysées into a mile long garden. Generally though, it is very costly to convert later larger floorplate office buildings into residential with added plumbing acoustic and light requirements.
Which brings us to Auckland's downtown, whose silhouette bears the mastheads of finance and has been badly caught out. It's a city in catch up mode. Whilst inner city residency has grown from 4,000 to 40,000 in the last 25 years, with boosts to public transport and the central city revitalisation plans to upgrade streets, parks and cycle ways, its downtown is waist deep amidst one big vacuous construction zone. A situation not helped by the fact that the physical constraint of the Queen Street gully has been opened up to the waterfront and large employers like ASB, Air NZ and Fonterra have leaked out to seaward locations.
The wider issue here is one of macro planning and directive funding. The early 20th century /Garden City movement model of a mono centric city is well past its use by date. The post-industrial urban form that has been emerging worldwide over the last forty years is clearly that of a poly centric city. However there continues to be huge investment and concentration of traffic funnelled into the centre of Auckland, a site which is further constrained by hills and harbours. More needs to be directed across the hierarchy of centres. The new large nodes of Manukau, Westgate and Albany do not have the amenity of water bodies and will need massive investment to create sufficient gravity. Perhaps the Government's plan for a light rail network across the isthmus will partially address this wider need for massive urban regeneration.
The recently finished upgrade of Hurstmere Road on a relatively modest budget but removing half the car parking and making the street one way, released 7m wide sidewalks made the street into social spaces populated with tables and seats invitations to dwell and socialise.
Happily, there is some good news from smaller centres like Takapuna. Whilst enjoying a wonderful beachside setting, the suburb suffered for a long time, over taken by the likes of Albany Mall, and waiting for the promise of a high-rise residential catchment. Recently, resourceful private development projects like the recent conversion of an old 1950s shed into an Eat Street with an opening up of a laneway to the rear car park has brought the public back. It's a good conversion example of increasing the active frontage, using small footprint leases and shared amenities. The offices above retail level are enticing staff back into the office with continuing education programmes, social events and almost resort like interiors whilst entertaining one to two days working from home as the new normal. In the car park to the rear Panuku are joint venturing to develop a series of residential apartment towers.
Invigorating suburban centres is an obvious must-do, and despite the difficulties, downtowns, due to their huge investment and social opportunities are bound to survive. Bold ideas and resolute funding are required to see a more efficient evolution/ return to a mixed use, traffic calmed and high amenity "ultra-humanised" downtown.
Photo credit: Simon Devitt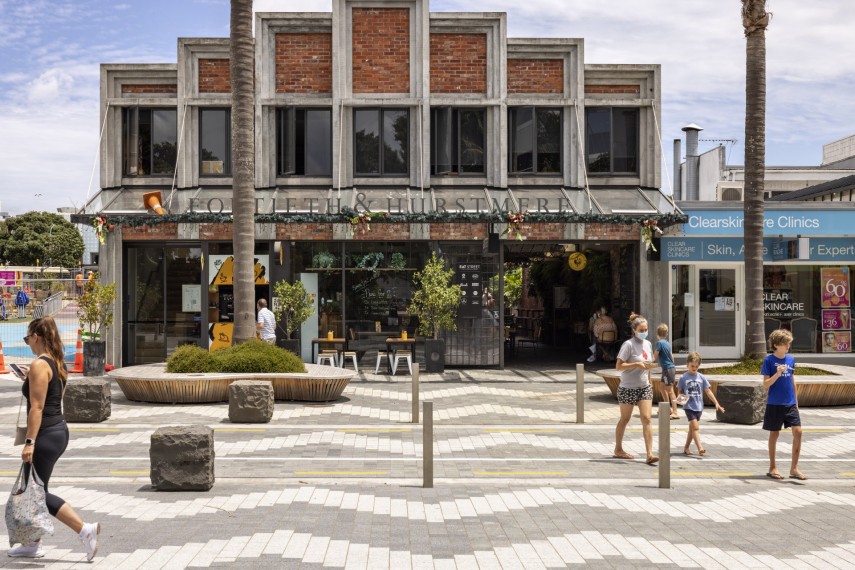 Back to all articles
More articles Pitopito kōrero
Practice Tikanga
At Reset Urban Design, we offer a broad scope of services within the specialist areas of Urban Design and Landscape Architecture. We also actively engage in research and have contributed two published books on the history of design in New Zealand.
More